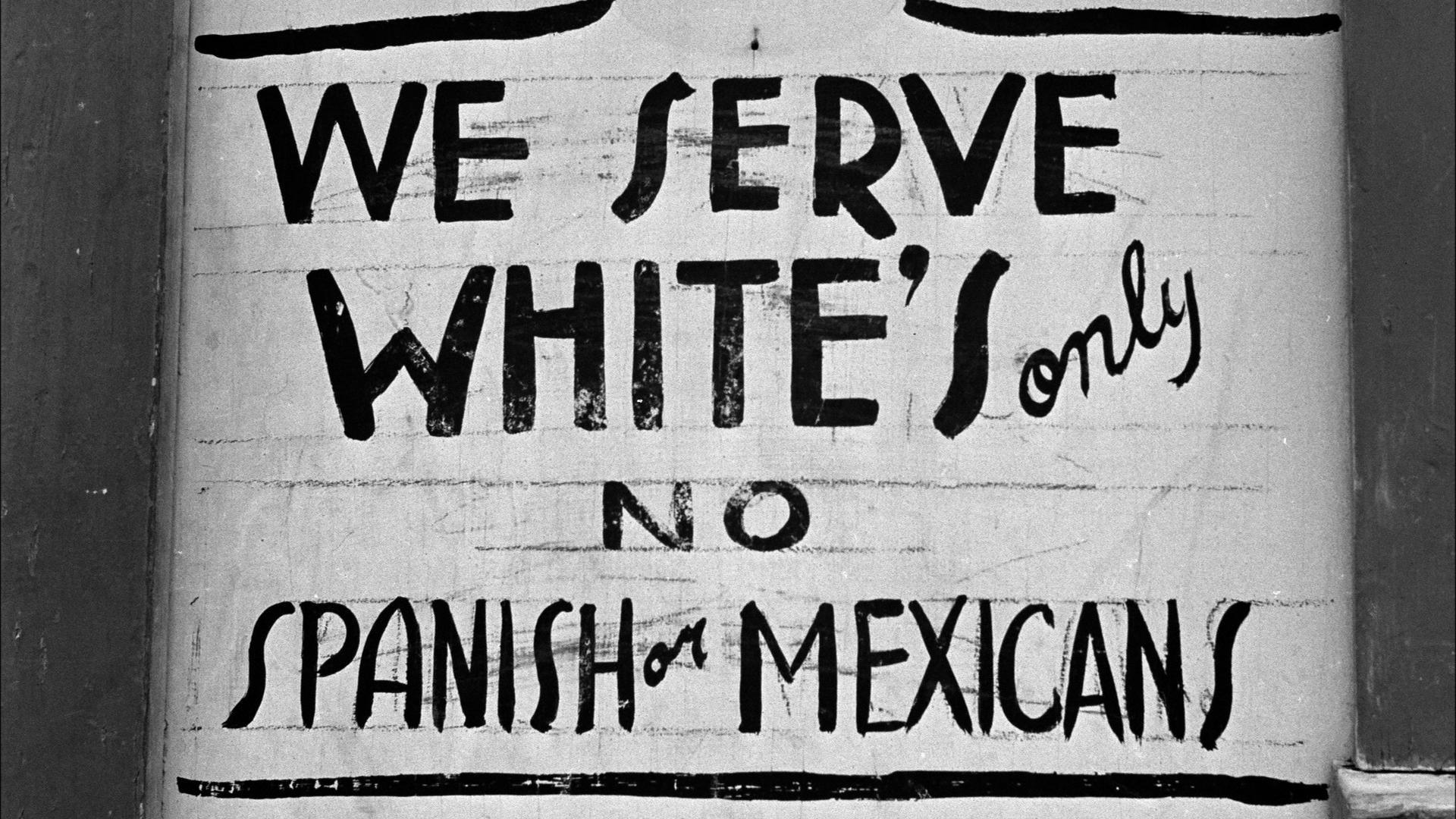 Within the twenty-first century, cultural pride has exploded in the United States. Online genetic databases have even been developed for Americans who feel ignorant of their ancestral heritage. Nevertheless, Mexican-American people still face distinct challenges establishing their own ethnic identities. Unlike other minorities, Mexican Americans have overlapping ethnic labels. These labels start with the overall term 'Hispanic' that applies to anyone of Spanish ancestry. Then, the term 'Hispanic' narrows down to 'Latino' that particularly applies to anyone of Latin American ancestry. After that, Mexican Americans must choose to describe themselves as 'Mexican,' or 'Chicano.' Thereby, Mexican Americans can call themselves: Hispanic, Latino, Mexican, or Chicano. Since, most Americans prefer to categorize people based on their race, numerous Mexicans have adapted the approach to change their ethnic call card depending on their audience. It is their way of camouflaging themselves out of discrimination. Although, on both sides, it's time to focus on our commonalities as a society and look beyond the labels.
With so many applicable labels, many Mexican Americans find themselves disoriented. For a clearer perspective, I interviewed a Hispanic person about the development of his racial identity. Jesse describes, "Funny enough, during my childhood, I thought I was white. My friends called me gringo…they had a much darker skin-tone than me. If I stayed outside, my hair would turn blond. My eyes were a much lighter shade of brown too. I wouldn't tan, I'd turn red… they'd call me red lobster." As the Spanish Empire generally sent men to colonize Latin America, Spaniard men often took Indigenous American wives, "Spanish America gave almost instantaneous rise to a mixed-race population, called mestizos, which quickly became numerically by far the largest portion of the population." Consequently, Mexicans have a wide-range of skin-tone from extremely light to unmistakably dark. With intermarriage continuing to be prevalent in the Mexican population today, each generation has increasingly fewer people identifying as 'Hispanic.' Instead, ten million Hispanics, according to the 2010 Census, switched their ethnic label to 'White' or 'Black.' Factors that are believed to have caused the shift are assimilation, intermarriage, and upward mobility. So, Jesse's childhood seemed to be a precursor of the upcoming trend.
It wasn't surprising to hear Jesse was called a gringo, since he is rather fair-skinned. However, I was still shocked that Jesse ever identified with the term 'White', considering that many Mexicans usually draw a deep, cultural line between 'White Europeans' and themselves. Curiously, I asked about his pride as a Mexican. Given that Jesse grew up during the 1980s, a period when San Antonio public schools outlawed Spanish on campus, I wondered if he felt political pressure to identify as 'White.' Conversely, he responded, "…I have great pride in my Mexican heritage. Thinking back, I recall my mother telling me stories of trucks filled with Mexican workers, bound north to Wisconsin to work the farmland, normally picking corn. Every year, she'd migrate in those same trucks to earn what little living she could until my siblings and I were born. Having heard her experiences, I had a great pride to call myself Mexican." So, once again, I was astounded. Many Mexican American stereotypes and labels are based on poor, immigrant laborers left working the fields. Yet, instead of shame, Jesse appeared to be proud of his roots.
However, I still pondered how Jesse dealt with identifying as both 'White' and 'Mexican' at the same time. On one hand, 'White' is a political majority in the United States, meanwhile, 'Mexican' is a discriminated minority. I was about to ask if Jesse ever felt overwhelmed with so many names associated with the Mexican identity: Hispanic, Latino, Mexican, Mexican American, Chicano, etc. Although, he took initiative on his own, "That was put to the test when I decided to join the military. I was bombarded with labels: White, Hispanic, Texan, and Latino. Suddenly, I was a little confused of what to consider myself." Apparently, Jesse was raised in a Mexican ethnic enclave. So, the community was practically one-hundred percent Mexican and considered to be one of the state's many 'ghetto Mexican Projects.' He said that the only labels that he had known to apply to himself were 'White', 'Texan', and 'Mexican'. The terms 'Hispanic' and 'Latino' were foreign to him until someone explained, "…'you're white. Your family is from Mexico that speaks Spanish. Spanish comes from Spain which makes you Hispanic. Since Mexico is considered a Latin American country, you are Latino. Ethnically, you're Mexican.'" From another armed forces member, Jesse claimed to hear the word 'beaner' for the first time. Popularized in the 1980s, the derogatory noun became popularized after millions of Mexican immigrant workers flooded into the agricultural labor sector. Specifically, these Mexican immigrants were usually undocumented and were often found harvesting pinto beans. Since then, some Mexicans have attempted to turn the term into a badge of honor. However, if that has gone mainstream is yet to be foreseen. The majority of Mexican Americans would rather avoid the word's usage outright. For comparison, it is similar to the N- word for African Americans, except it's still frowned upon even when a Mexican would refer to another Mexican as a 'beaner' in conversation. To put bluntly, only xenophobic people use the term in casual conversation. Which goes to show, Jesse's own fellow servicemen didn't even accept him as their own fellow, equal American.
Considering that Jesse was a product of the 1980s, I enquired whether pop culture also pertained to the establishment of his racial identity. According to a 1996 New York Times article, "Hispanics maintain that Hollywood films have always portrayed them as either vicious bandits, lazy peasants, or humorous buffoons. While emphasizing these stereotypes, Hollywood motion pictures have ignored the positive contributions of Hispanic-Americans toward life and culture in the United States." Appearing bothered by his testimony about racial discrimination, Jesse recollected, "…The low rider or the biker? I struggled to decide, who was I going to be? So, I decided to forgo all the labels. When someone asks me about my nationality, I would tell them American. The only thing that matters."
Overall, Jesse's testimony brings on a disturbing question to all people currently living in the United States. If a natural-born, armed service member cannot be accepted by his country, who could? Over the last eighty years, countless minorities have found themselves proudly supplemented into America's melting pot: African Americans, Italian Americans, Scottish Americans, and so on. Yet, Hispanic Americans often are deemed not "American" enough, whether by Spanish-speaking or skin-tone. While other minorities may worry about racial profiling, Mexican Americans must dread the possibility of wrongful deportation even if their birthright promises otherwise. Given the government's intimidation over Mexican Americans, it becomes the responsibility of all Americans to begin to rise for the sake of their neighbor, looking beyond their "label." After all, cultural acceptance starts with society's choice, not found on a DNA test.
RESCUE is a safe haven for the people feeling excommunicated from society. Our group's mission is to dissolve religious and cultural bondage for the lost and found. We believe no one should ever feel like they must hide in fear of retaliation. As a closed group on Facebook, members may speak openly about their struggles and receive feedback. As the people who care when no else does, click the link to give us a shot. We can lead you to the path of the freedom step-by-step: https://www.facebook.com/groups/rescue/. Instead of looking at all the labels, we look at you.